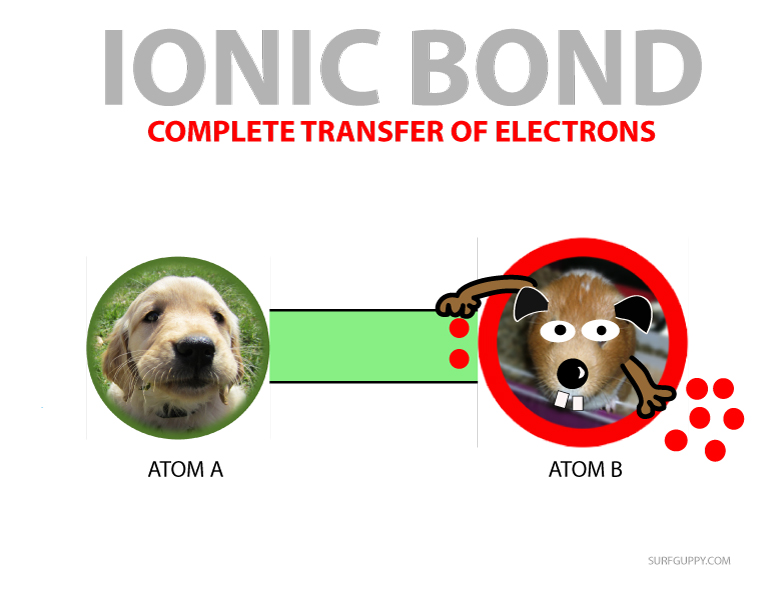 IONIC BONDS
Ionic bonding is the kind of attraction that causes the complete transfer of electron(s) between atoms.
THE IONIC BOND LOVE STORY
Ionic bond occurs between two very different types of elements such as a metal and non-metal. Their electronegativity values are far apart, one is really strong and the other is weak. So they bond by transferring electrons.
When the two atoms combine, they actually transfer electrons rather than share them. As a result, they change personality.
The atom that looses the electron(s) becomes a positively charged ion called cation and the one that gains the electron(s) is called the anion.
Helpful tips to remember:
Cathy the cation (+'ve)
Andy the anion (-'ve)

ELECTRONEGATIVITY BOND SCALE
FOR IONIC BOND THE ELECTRONEGATIVITY DIFFERENCE BETWEEN THE TWO ATOMS IS GREATER THAN 1.7.
What is electronegativity? Electronegativity is the ability to attract electrons.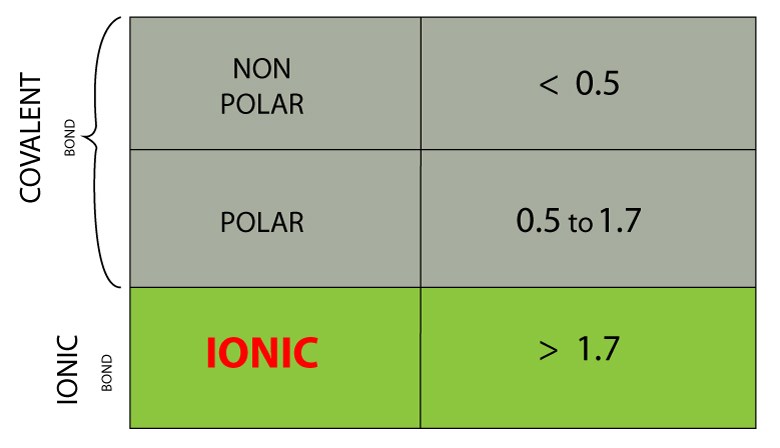 EXAMPLE OF AN IONIC BOND
SODIUM TO CHLORINE


Love is ironic – that you are willing to give up all your electrons…
The electronegativity in chlorine is so strong compared to sodium that it SNATCHES an electron rather than share it. An electron TRANSFERS over from the sodium to the chlorine.
Sodium has an electronegativity of 0.93
Chlorine has an electronegativity of 3.16
Electronegative difference between Sodium and Chlorine = 3.16 – 0.93 = 2.23
The difference is greater than 1.7 so the sodium chloride molecule bond is considered an ionic bond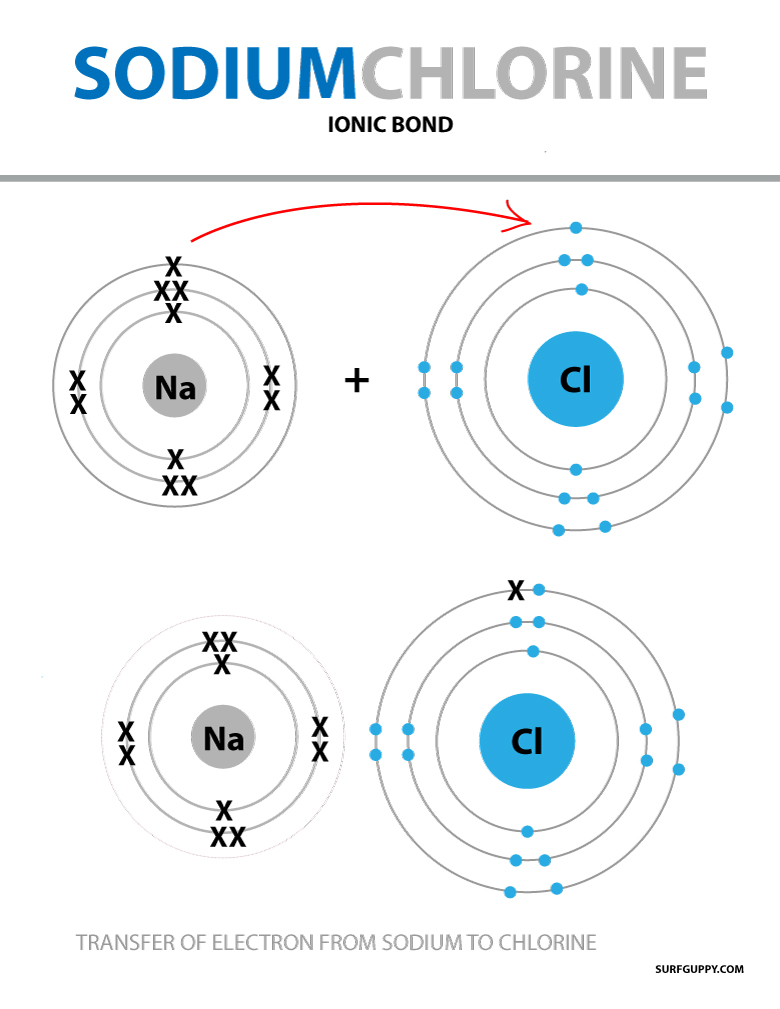 Chlorine Atom (anion)
There are 17 valence electrons in Chlorine
It is easier to gain 1 electron than to loose 7
Chlorine steals 1 electron from Sodium
Chlorine now has 18 electrons and 17 protons
Chorine has gained a charge of 1-
Sodium Atom (cation)
There is only 1 valence electron in Sodium
It is easier to loose 1 electron than to gain 7
Sodium transfers an electron to chlorine
Sodium now has 10 electrons and 11 protons
Sodium has gained a charge of 1+