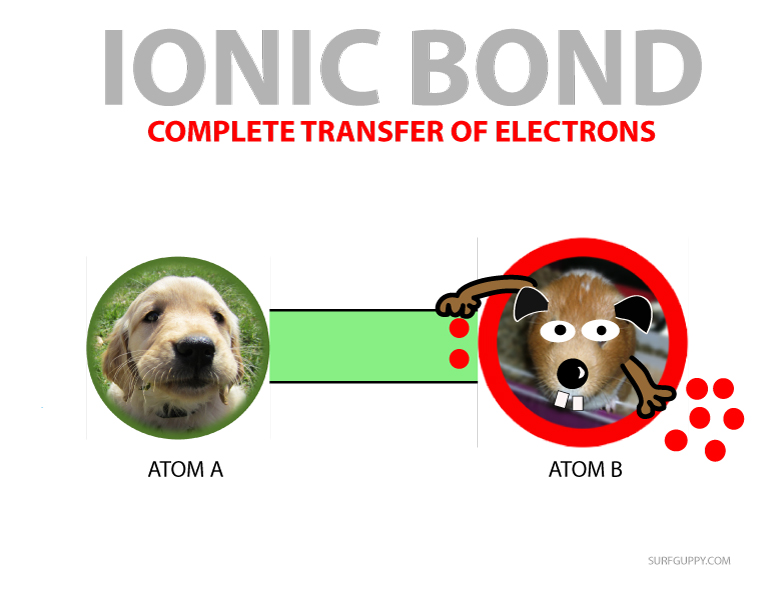 IONIC BONDS
An ionic bond is formed by the complete transfer of electrons between atoms.
THE IONIC BOND LOVE STORY
An ionic bond is formed between elements of drastically different electronegativities, which are typically found between metals and non-metals.
The two atoms combine by transferring some electrons to each other rather than sharing them like in covalent bonds.

As a result, they change chemical properties (like changing personality).

The atom that loses the electron(s) becomes a positively charged ion called a cation,  and the one that gains the electron(s) is called the anion.
A helpful tip to remember:
Cat are pawsitive (+'ve)

ELECTRONEGATIVITY BOND SCALE
FOR IONIC BONDS, THE ELECTRONEGATIVITY DIFFERENCE BETWEEN THE TWO ATOMS IS GREATER THAN 1.7.
What is electronegativity? Electronegativity is the ability to attract electrons.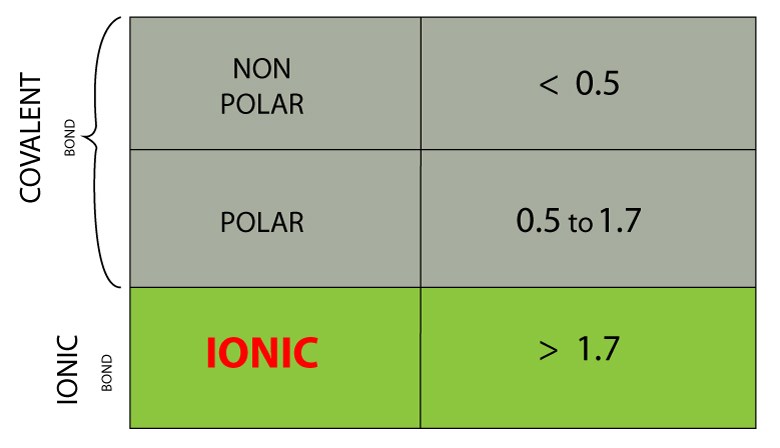 EXAMPLE OF AN IONIC BOND
SODIUM TO CHLORINE


Love is ironic – that you are willing to give up all your electrons…
The electronegativity of chlorine is so strong compared to sodium that it "snatches" an electron rather than share it. An electron TRANSFERS over from the sodium to the chlorine.
Sodium has an electronegativity of 0.93
Chlorine has an electronegativity of 3.16
The difference in electronegativity between sodium and chlorine = 3.16 – 0.93 = 2.23
Since the difference is greater than 1.7, the bond between sodium and chlorine is considered an ionic bond
Illustration of sodium and chlorine ionic bonding
Chlorine Atom (anion)
There are 7 valence electrons in Chlorine

In order to get a full valence shell of 8 electrons, chlorine will more easily gain 1 electron rather than lose 7

Chlorine steals 1 electron from Sodium
Chlorine now has 18 electrons and 17 protons and therefore has a charge of 1-
Sodium Atom (cation)
Sodium has 1 valence electron

In order to get a full valence shell of 8 electrons, sodium will more easily lose 1 electron rather than gain 7

Sodium transfers an electron to chlorine
Sodium now has 10 electrons and 11 protons and therefore has a charge of 1+